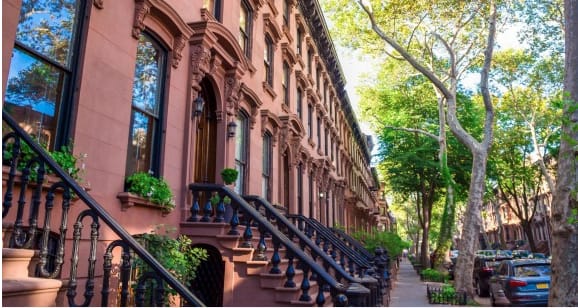 Fort Greene: A historic neighborhood in Brooklyn with an illustrious history.


Living in Fort Greene means having easy access to a variety of services and amenities, as well as being a part of a close-knit community. The neighborhood also has a vibrant dining scene, with several James Beard Award-winning chefs calling Fort Greene home.


Consider relocating to Fort Greene, Brooklyn, if you're searching for a lively, colorful community with the opportunity to experience various cultures.


Here is an in-depth guide that breaks down what Fort Greene has to offer:
What is Fort Greene Brooklyn
The history behind Fort Greene
What to do in Fort Greene
The Pros and Cons of living in Fort Greene
Fort Greene Neighborhood Guide
Finding apartments for sale in Fort Greene

Fort Greene, Brooklyn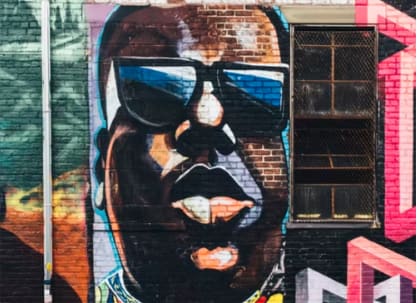 Fort Greene is a Brooklyn neighborhood with a varied population and long history. The region was once home to Fort Defiance. This Revolutionary War-era fort was used to defend the city of New York against British assaults. From its humble beginnings as a fortification against British forces, Fort Greene has grown into an active and prosperous community.


Fort Greene has a population of about 30,000 people. The boundary runs north along Flatbush Avenue, south along Nostrand Avenue and Brooklyn Navy Yard, east along Atlantic Avenue, and west along Vanderbilt Avenue. Fort Greene is adjacent to several other Brooklyn neighborhoods, including Clinton Hill, Boerum Hill, Bedford-Stuyvesant, Downtown Brooklyn, and Prospect Heights.


Fort Greene is known for its rich history, gorgeous parks, and energetic community. Picnics, sunbathing, and people-watching can all be done in some of the area's laid-back places. Fort Greene also has a wide range of companies and restaurants, ensuring that it is lively and vibrant.

History of the Fort Greene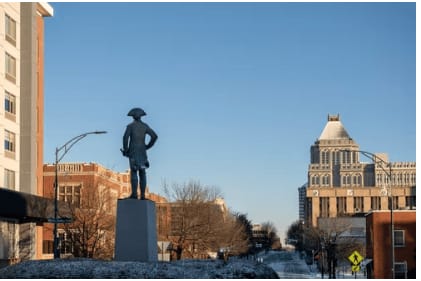 In 1624, the Dutch West India Company established a small fort(Fort Putnam) on the site of present-day Fort Greene Park, overlooking the East River. The defense was used to defend the settlements against attacks from Native Americans and pirates and to serve as a base for merchants traveling up and down the river. In 1776, during the American Revolution, the area was captured and renamed after General Nathanael Greene(One of the most trusted generals of George Washington).


In the early 1800s, Fort Greene was a rural farming community. Still, it expanded rapidly after the Erie Canal was completed in 1825. By mid-century, the region had evolved into a thriving commercial center with a vibrant waterfront and an increasing population of immigrant workers.


Today, Fort Greene is best known as a cultural center with a diversified group of artists, musicians, and writers living there. However, its magnificent architecture and street names are legacies of its long history as a vibrant community that proudly maintained its unique culture.

Things to do in Fort Greene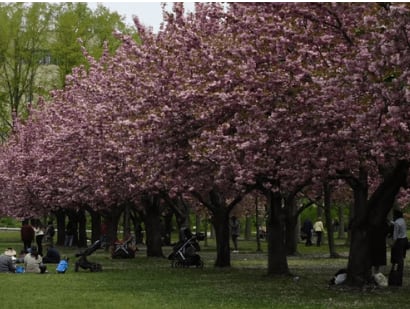 Some come for the unusual architecture and history of the area. In contrast, others are attracted to the vibrant arts and culture scene. Finally, others come for the cuisine, as the neighborhood has several renowned eateries. Here are some of Fort Greene's main attractions:


Fort Greene Park


It originally opened as Washington Park, but was subsequently redesigned by Frederick Law Olmsted and Calvert Vaux. Fort Greene Park is one of the city's most treasured parks with its vast open areas, beautiful views of Manhattan, and diverse amenities.


Brooklyn Academy of Music


The Brooklyn Academy of Music, commonly referred to as BAM, is a well-known performing arts center in the United States. The institution has a long history of showcasing cutting-edge and innovative shows. Today, the venue hosts various events, from world-renowned orchestras to boundary-pushing contemporary dance troupes.


Fulton Street


Since the early 19th century, Brooklyn's Fulton Street has been known for its lively ambiance and a wide range of companies. Today, the street is home to various businesses, restaurants, and cultural attractions, making it a popular destination for locals and tourists. In addition, Fulton Street has seen considerable revitalization recently, resulting in even more reasons to enjoy this famous Brooklyn street.


Lafayette Avenue Presbyterian Church


The Lafayette Avenue Presbyterian Church is essential to Brooklyn's history and present. The church served as a safe haven for those escaping persecution before the Civil War. In addition, many of its members were prominent in the fight against slavery. Today, the congregation continues to contribute to the Brooklyn community through various activities and services.

Pros and Cons of Living in Fort Greene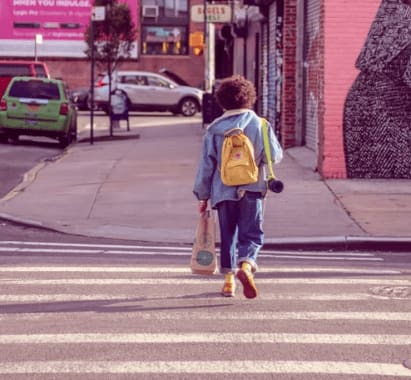 Pro:
Fort Greene is a culturally diverse and vibrant neighborhood
There are plenty of restaurants, bars, and cafes to choose from
The public transportation options are excellent
Con:
The cost of living in Fort Greene is high compared to other neighborhoods in Brooklyn.
Parking can be challenging to find
Noise levels can be increased due to all the activity in the neighborhood.

Fort Greene Neighborhood Guide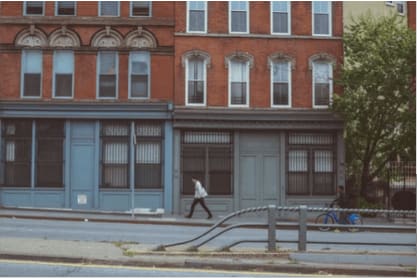 Look no further if you're searching for a safe, family-friendly community with a long history. This historic district is home to many people and cultural activities. If you're seeking a home, Fort Greene may be your place.


Housing: According to recent data from Trulia, the average rent for a one-bedroom apartment in Fort Greene is $2,600 per year, while the average cost of a two-bedroom home is $3,100. According to recent data from Trulia, the median sales price for a house in Fort Greene is $1.1 million.


Public Transportation: There are plenty of transportation alternatives in Fort Greene, Brooklyn, including the subway, bus, and bicycle. The C train and the A and B trains may be taken. Alternatively, you may take the bus. In addition to that, there are a lot of taxi cabs and Uber cars in the neighborhood.


School District: If you're looking for top-notch school in Fort Greene, Brooklyn, you'll want to check out these three options:
The Brooklyn Technical High School - This innovative school offers a progressive education emphasizing hands-on learning, critical thinking, and creativity. They offer small class sizes and a strong sense of community.
PS/MS 20 Elizabeth Blackwell - This highly-rated public school features rigorous academics, competitive sports teams, and extracurricular activities like photography and dance. It's also located in a historic brownstone building near many great shops and restaurants.
The Urban Assembly School for Green Careers - As the name suggests, this unique school focuses on preparing students for careers
Restaurants: PRESS Coffeebar is a beautiful spot to get breakfast or brunch. They have great coffee and tea beverages and pastries and sandwiches to start your day off right. Next, visit Dokebi for Korean-style grilled meats, noodles, and rice dishes for lunch or dinner. Alternatively, Pearl Street Grill & Barbecue serves delicious burgers and ribs in Fort Greene. Lastly, Brooklyn Baton Rouge Catering Co. is a must-visit restaurant if you're visiting Fort Green for the first time. Yum!


Bars and Nightlife: The Commodore and The Nitecap are two of the most inviting dive bars in Brooklyn, each with its own distinct character. If you're in the mood for something more refined, try Due South or Tilt instead. And if you're seeking a trendy rooftop bar with panoramic views of Manhattan, check out Fort Greene Social or Rooftop Reds.


Crime: Compared to other areas of New York City, the crime rate in Fort Greene, Brooklyn is relatively low. There are, however, still certain crimes that happen regularly. For example, robbery and assault are the most common forms of corruption in Fort Greene.

Apartments for Sale in Fort Greene
Connect with one of our agents if you're searching for a place to live in Fort Greene, Brooklyn. We understand the ins and outs of the housing market in this area, and we're here to assist you in finding your ideal home.


Our team will work with you to find apartments that match your criteria and budget.