It doesn't take long to understand the impact that Extell has made in the luxury real estate world. As one of New York City's most creative and active real estate developers, this nationally-acclaimed business is known for developing commercial, residential, and hospitality properties. They're also responsible for developing some of the most exciting new developments in New York City, including Central Park Tower on Manhattan's Billionaire's Row. Whether you're ready to buy or simply shopping around, there's a good chance that you're looking for ways to save money throughout the buying process. With that in mind, read on for an inside look into tax-abated Extell luxury buildings.
A closer look at Extell
Since it was first
founded in 1989
, Extell has made a splash in the New York City luxury real estate scene. Its name is derived from two words: excellence and intelligence. These two virtues drive the passion and unwavering commitment behind each and every project.
Extell is a full-service development company that has been responsible for developing some of the world's most prestigious residences, redefining luxury in New York City and beyond. Since its founding, Extell has developed over 25 million gross square feet of past and future developments. The business is composed of a talented group of real estate professionals whose combined knowledge expands across all aspects of real estate development. This spans everything from acquiring land, finance, development, and marketing. With clear communication and efficient execution, it's no surprise that Extell has become one of the most established developers in New York City.
Tax abatements in New York City
While they might be few and far between, rent-stabilized units are still coming onto the market every now and then – including some impressive Extell-developed buildings. Condos built under the
421a tax abatement program
were started in 1971 to encourage the development of underutilized property by dramatically reducing property taxes for a set amount of time. While condos built under this tax abatement program are starting to decrease, here's a look into tax-abated Extell luxury buildings.

1. One Manhattan Square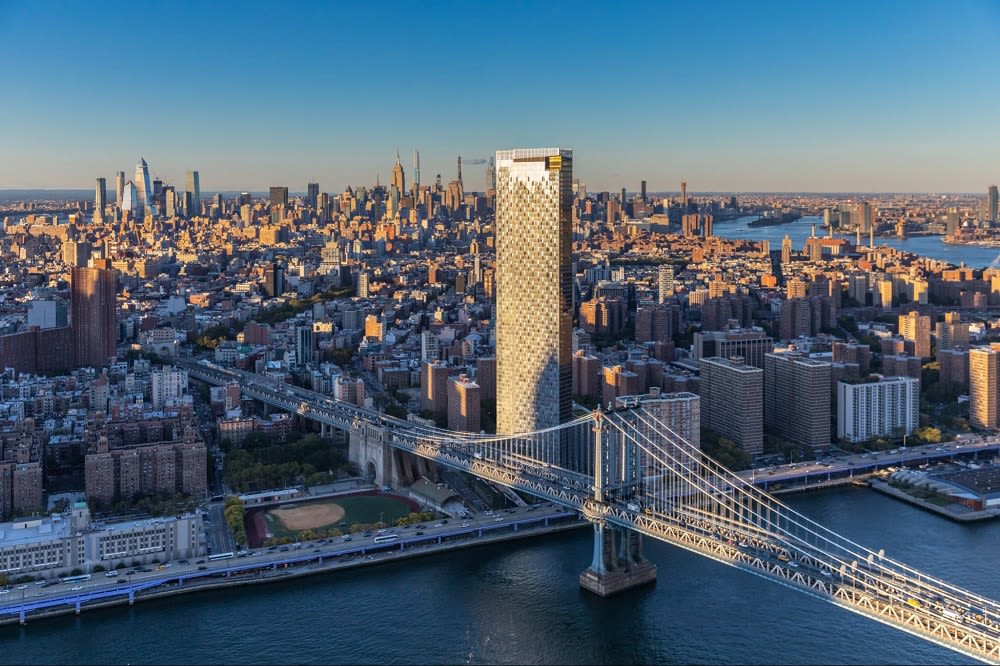 Photo Courtesy of One Manhattan Square
Located on Downtown Manhatten's waterfront,
One Manhattan Square
is nothing short of a work of art. This stunning 800-foot-tall glass tower was developed by Extell and consists of luxury condominium residences. Residences can enjoy spectacular views of the river and skyline below. One Manhattan Square boasts more than 100,000 square feet of private indoor and outdoor amenities that residents can access, providing them with an elevated style of living. Interior spaces are uniquely angled to maximize light, making the most of the sweeping city and sky views.
Upon stepping inside, you'll quickly realize that the interior is just as impressive as the building's exterior. The Cherry Street entrance will take you into a landscaped motor court, where you'll be greeted by the 24/7 doorman. The three-story lobby consists of several impressive features, spanning from the large chandelier or the imported marble. The residences are nothing short of remarkable, boasting warm and modern interiors designed by Meyer Davis Studio. In addition to being one of the final waterfront developments in Manhattan, One Manhattan Square offers one of the
last remaining 20-year tax abatements
.

2. 70 Charlton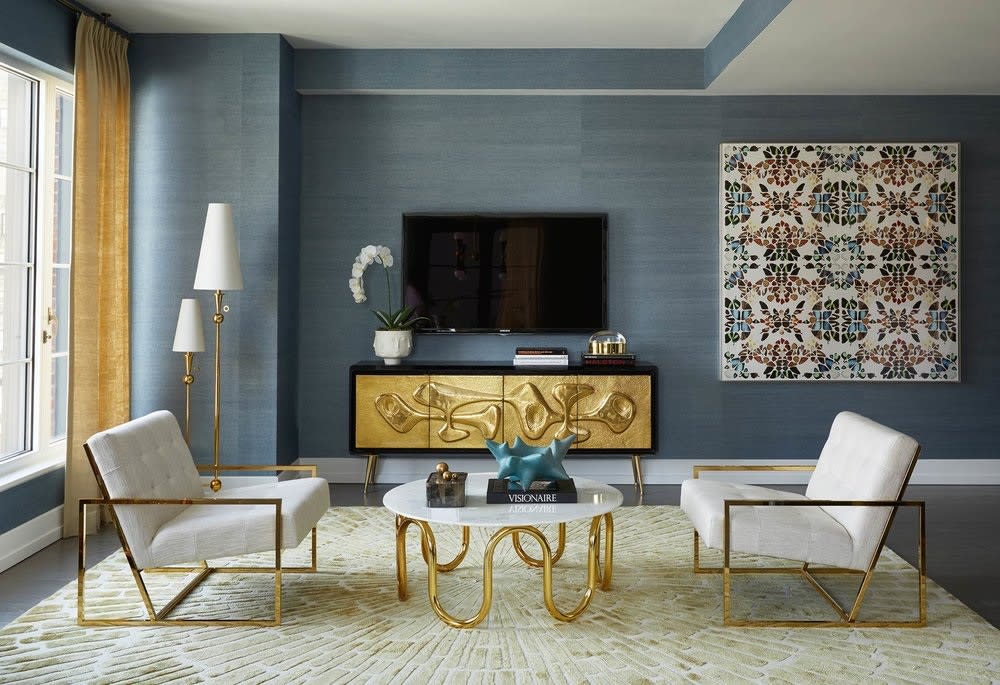 Photo Courtesy of 70 Charlton
The epitome of a luxury residence,
70 Charlton
comprises two contextual towers connected by a landscaped courtyard. Located in West Soho, this architectural masterpiece encompasses 92 luxury residences and stands as a testament to Extell's superb craftsmanship. With architecture by Beyer Blinder Belle and interiors by Workshop/APD, these 1- to 4-bedroom homes are another example of tax-abated Extell luxury buildings. Here, residents can experience attainable luxury living in the thriving West Soho neighborhood, located in the center of the newly rezoned Hudson Square north of Tribeca and south of the West Village.
From its large-scale windows to steel-framed entries that reflect the architecture of West Soho, there's no question that 70 Charlton is the perfect blend of modern and urban living. It serves as a place for stillness, despite being located in the heart of downtown New York City. In addition to its expertly designed homes, 70 Charlton is proud to offer its residents a suite of exceptional amenities. This extensive list includes an indoor saltwater pool, landscaped courtyard, state-of-the-art fitness center, children's playroom, 24/7 doorman, concierge services, steam room, outdoor sports court, and resident's lounge. Condo owners at 70 Charlton will get a 20-year, 421-a tax abatement.

3. The Kent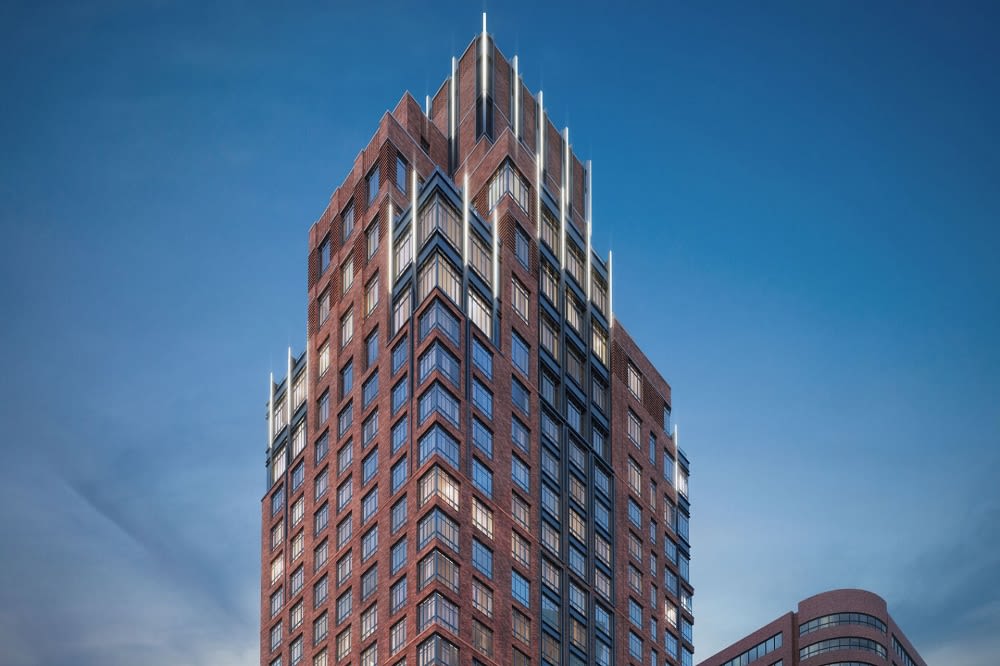 Photo Courtesy of The Kent
The Kent
is a tailored collection of residential condominiums located on the Upper East Side. Developed by Extell, the condo is crafted by award-winning architect Beyer Blinder Belle with the interiors of the famous designer Alexandra Champalimaud. From top to bottom, this magnificent building promises luxurious living with a wide array of services and amenities. The building offers three levels of curated indoor and outdoor amenities, spanning from a grand lobby with a concierge, 24/7 doorman, and stroller valet. It also provides residents with an impressive 55-foot indoor heated swimming pool, a private world-class fitness center, men's and women's changing rooms with Finnish saunas, a children's playroom, and landscaped courtyard garden.
Two-to-five bedroom residences proudly display the finest finishing details. With spacious layouts, these homes are characterized by their natural light and oversized corner windows, complemented by high ceilings. Distinctive details set apart residences at The Kent from standard condos, including custom millwork and hardware and a choice of Ebonized or Brushed Oak flooring throughout. The Kent offers a 20-year 421a tax abatement until 2038.

4. One Riverside Park
Overlooking the Hudson River, Central Park, and New York City skyline,
One Riverside Park
undoubtedly boasts some of the best views in town. This Kent-developed luxury building comprises a collection of 219 residences, which are some of the Upper West Side's largest residences. The building rises from a natural limestone base and seamlessly transitions to luminous expanses of glass, complete with sweeping city and river views.
One Riverside Park is known for its exceptional array of amenities at an unprecedented scale. In fact, there are over 50,000 square feet of lifestyle amenities, including an expansive athletic club and spa that offers an abundance of activities for exercise, recreation, and play. Residents can also take advantage of a 75-foot swimming pool, 38-foot rock-climbing wall, basketball courts, bowling alley, and golf simulator. There's also an indoor playground, private screening room, and landscaped garden courtyard. Upon stepping into a residence, you'll be greeted with a warm and elegant interior by acclaimed designer Shamir Shah. The 20-year tax abatement is now in effect.
The three pillars of Extell's philosophy
Extell is
built upon three pillars
that contribute to its success – quality, choice, and excellence. When it comes to quality, Extell Development Company creates a real estate for those who value high-end design, superior craftsmanship, and the finest appointments. Each and every development, no matter how tall, embodies the meaning of quality. This can be seen in everything from the customized finishes to the carefully designed floor plans to the state-of-the-art amenity offerings.
Choice is the second defining characteristic that drives Extell. As true real estate professionals, Extell understands that true luxury is a matter of choice. Buyers are able to choose from a varied assortment of selections, ranging from the finishes to the design to the layouts of their home. By catering to individuals' unique tastes and preferences, Extell sets itself apart from its competitors and instead prides itself on being customer-centered. However, choice extends beyond the interior of the home or design details on the blueprints. Extell prides itself on offering choices that also come with city views, flexible floor plans, and unmatched amenities.


The third and final element that makes up Extell's philosophy is excellence. As alluded to in the name, Extell is committed to excellence in all aspects of its work. This includes everything from offering top-notch customer service to buyers using the best materials available. Through the development process, Extell collaborates with renowned architects, designers, consultants, and amenity operations. Their talented in-house team oversees every aspect of the process, ensuring excellence from start to finish. You can rest assured that from conception to completion, Extell is dedicated to devoting time, energy, and resources, offering the finest products and services available.
Find your new home in an Extell luxury building
If you're looking for a Midtown Manhattan real estate agent,
Josh Carter is there
to guide you through the process. As an expert in New York City, Josh is ready to help you find your dream Midtown Manhattan homes for sale.