New condos for sale in
Downtown Brooklyn
are popping up left and right, providing incredible opportunities for those looking to relocate. Overall, the downtown Brooklyn real estate market has seen consistent appreciation, with property values increasing 3.5% in the past year.
Condos for sale in downtown Brooklyn
have a median price point of just over $1 million, with many properties selling for a little below the asking price. As a whole, Brooklyn is a strong place to invest as more and more people continue to seek properties in the area. Demand for real estate in Brooklyn is expected to remain high and prices to continue appreciating, so if you're in the market for a home in the city, check out a few of its newest condominiums.
The Symon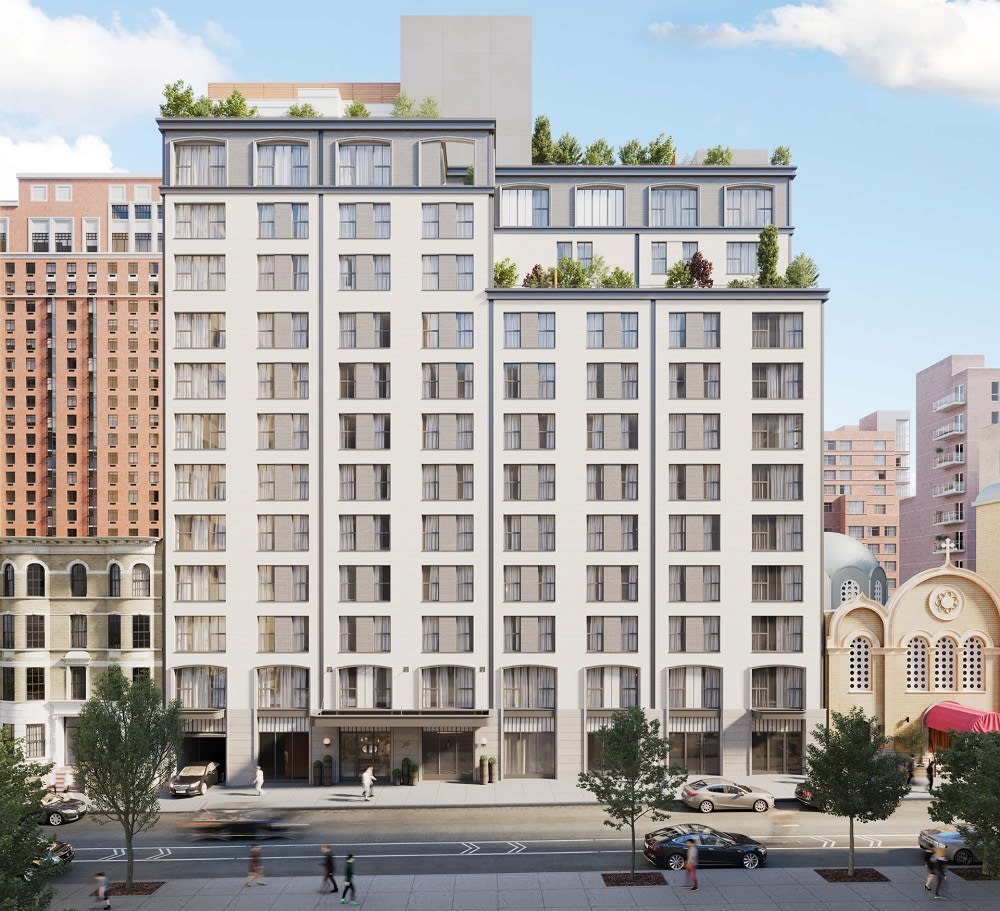 Photo courtesy of The Symon
Located at 76 Schermerhorn, the Symon is the first on our list for its classic look and luxurious atmosphere. A boutique complex, the Symon mixes modern and historic designs to create a building that blends in perfectly with the best of Brooklyn's existing structures. Studio DB designed the bespoke residences, leaving each feeling like just the right pairing of vintage and contemporary elements. Bright and open, the units have a lovely foyer, crown molding, and wide outdoor terraces. The kitchens are outfitted in clean, white quartzite countertops with complementary cabinetry, while the bathrooms feature custom storage, walk-in showers enclosed in glass, and antique-style fixtures. As for amenities, those at the Symon truly help residents feel like they've discovered an urban retreat, whether they read by the fireplace in the Residents' Lounge or blow off steam at the fitness center.
The Oro
The Oro is a 40-story condo complex newly developed at 306 Gold Street. The 303 units at the Oro feature beautiful hardwood floors, grand full-length windows, and brand-new stainless steel appliances. The bathrooms are a highlight in this complex, with glass showers, stone wall tiling, and large soaker tubs. The Oro provides a doorman service for its residents, along with private storage facilities and a parking garage. Those who prefer two wheels to four can park their bicycles in a designated bike room. The Oro has an indoor pool and a fitness center in addition to basketball and racquetball courts to encourage residents to stay active.
Olympia Dumbo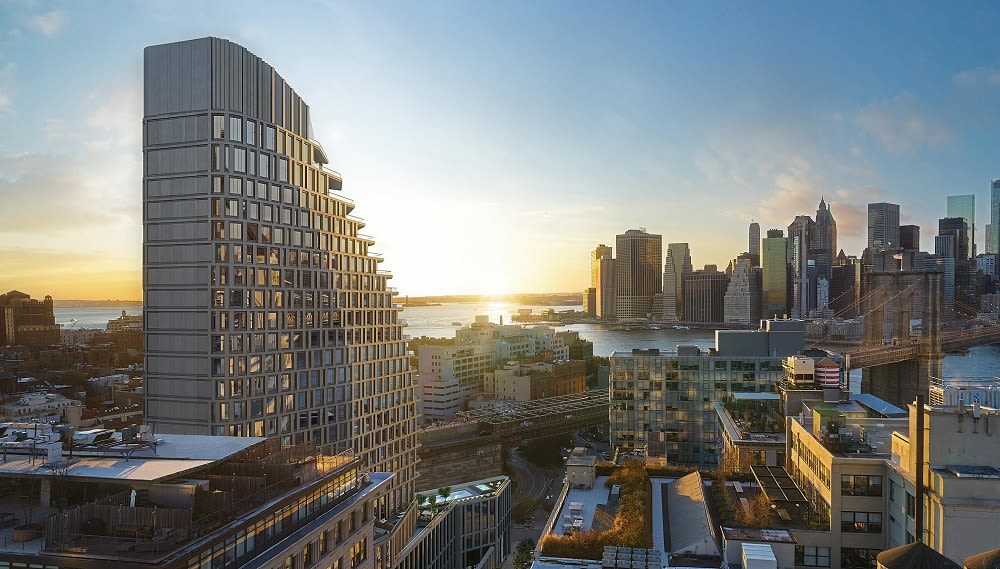 Photo courtesy of Olympia Dumbo
Located at the northern edge of downtown Brooklyn, Brooklyn Dumbo features 76 incredible units waiting to be called home. Perfect views of the harbor await anyone who relocates to Olympia in
Brooklyn's unique Dumbo neighborhood
. With nearly 40,000 square feet of additional amenities on the property, the new high-rise is one to keep your eye on. Fashioned out of glass and steel, the cascading facade reflects the surrounding cityscape and arcs down in a striking half-moon design. The duplexes are spacious and modern, with tall ceilings and open floor plans. Maple cabinetry and white accents evoke a light, airy feeling, while dark marble countertops keep the space earthy and grounded. Olympia Dumbo also offers the Garden, the Bridge, and the Club, their three main recreation areas. Outdoor and indoor pools, tennis courts, and BBQ areas are only a handful of what you can expect to enjoy as a resident there.
Brooklyn Point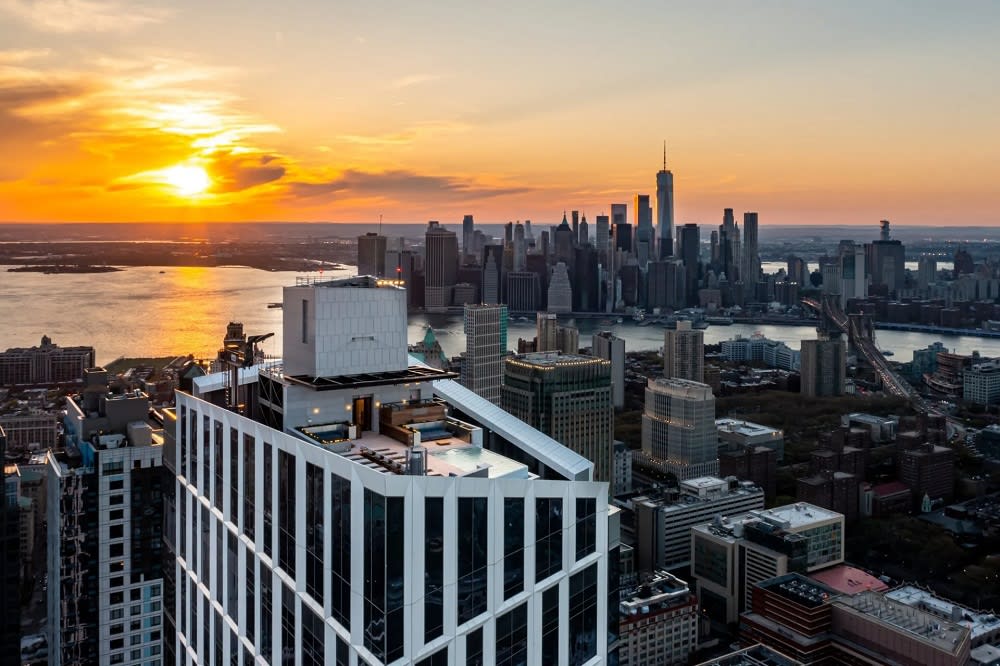 Photo courtesy of Brooklyn Point
Some truly lovely condos can be found at Brooklyn Point. Each home is hand-crafted by Katherine Newman Design, featuring wall-to-wall windows that provide not only a stunning view of the city and the harbor but natural light throughout the day. Homeowners have the option of choosing between nickel or copper water fixtures as well as between light and dark cabinetry finishes. The rooftop retreat space is one of the best amenities at Brooklyn Point, offering residents unparalleled experiences from swimming in the infinity pool, which sits more than 600 feet above the ground, to taking in an outdoor movie screening. The rooftop also has a dining space and outdoor showers. Brooklyn Point's beautiful park lounge, chef's kitchen, and wine library are just three more of its fantastic offerings.
Steuben & Park
Built in 2020, Steuben & Park is a five-story condo complex at the corner of
Clinton Hill
and
Fort Greene
. Steuben & Park is a charming new complex with one and two-bedroom units for sale. A perfect example of boutique loft condominiums, Steuben & Park features gorgeous exposed brick, fireplaces, private outdoor space, and ample natural light. Nearby to a number of top restaurants and venues, these units are excellent investments for those looking into downtown Brooklyn real estate. The condominium is also close to some of Brooklyn's best sights, including the
Brooklyn Museum
and the Brooklyn Children's Museum.
The Homage
The Homage
is an exclusive condominium complex that offers the best of Brooklyn real estate in a modern package. Condos at the Homage include incredible two-bedroom, two-bathroom units dressed in bright whites and overlooking the cityscape. Residents at the Homage have additional storage space and in-suite laundry facilities for the utmost convenience. The building is pet friendly and safe, with elevators that require key access. Kitchens at the Homage are spacious and custom, with stunning white cabinetry, wine fridges, and gold and bronze accents. Two-bedroom units for sale in this
Park Slope
condominium list at around $1.8 million.
Downtown Brooklyn real estate
is growing in leaps and bounds, with many new constructions arriving to help provide more residences for the over 2.6 million people who call Brooklyn home. As you determine where you'd like to invest in the borough, partner with a real estate broker who can keep you up to date on the latest listings. Native to Brooklyn, Josh Carter knows the city like the back of his hand and prides himself on helping relocating families and remote investors find their perfect properties. Dedicated to exceeding client expectations, Josh is ready to help you meet your real estate goals. So if you're ready to take that first step, reach out to
Josh Carter
today.