When it comes to moving into a new complex, today's homeowners are prioritizing convenience. Apartment amenities have long been a deciding factor for buying. This can include everything from fitness centers to pools to parking garages, all of which enable homeowners to enjoy an elevated lifestyle.


The Brooklyn Tower offers an inventive and bold approach that rivals traditional apartments. Rising from the vibrant Downtown district, the amenity spaces span over 120,000 square feet of indoor and outdoor experiences. Dreamt up by Krista Ninivaggi of Woods Bagot, these immersive amenities are truly one of a kind. From the thoughtfully designed swimming pool to the state-of-the-art fitness center, here's a look into what The Brooklyn Tower has in store.
1. Concierge services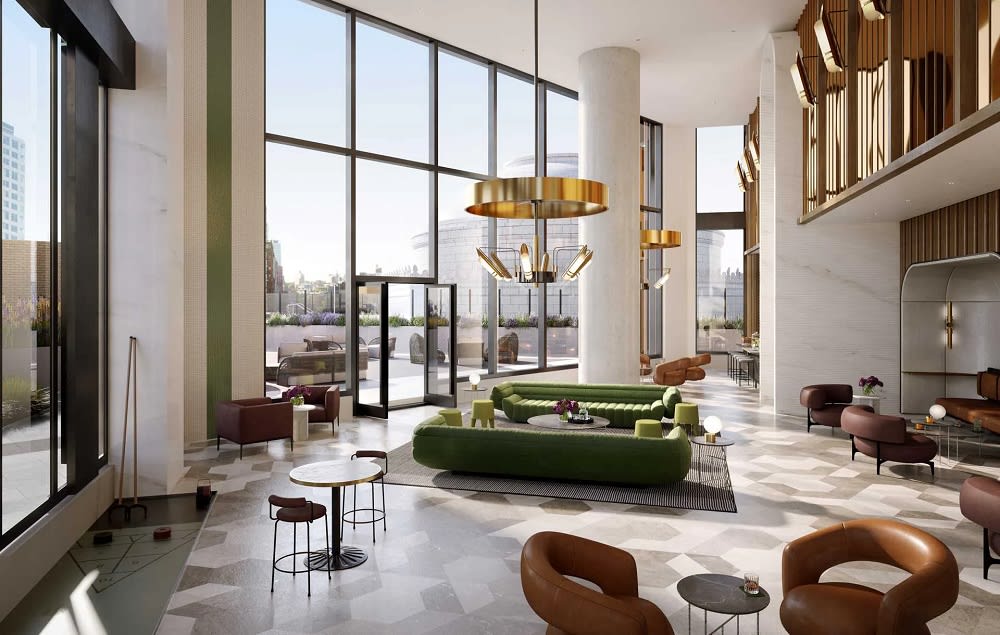 Photo Courtesy of thebrooklyntower.com
Whether a new resident of The Brooklyn Tower or a long-term resident, it doesn't take long to feel at home here. Residents are immediately greeted with a welcoming ambiance from the moment they enter through one of the complex's two lobbies. With idyllic tree-lined streets, the Fleet Street entrance brings residents through the colonnade of the original bank building, offering a glimpse into the building's rich history. Meanwhile, entry from the Flatbush Avenue Extension welcomes residents with a homey environment, complete with bronzed mirrored surfaces that offer an escape from the hustle and bustle of the city beyond.


The Brooklyn Tower offers the best of the best when it comes to
concierge services
, the very definition of luxurious living. You'll find a 24-hour lobby attendant, rideshare lounge, package valet, and in-house coffee stand. Whether you're grabbing a coffee on the way out the door or returning from a long day of work, you'll immediately feel at home upon stepping into The Brooklyn Tower.
2. Athletic Club
Having a fitness center in your apartment has a number of appealing perks – namely, unmatched convenience. After all, there's no need to travel or leave the building to exercise. Plus, having a fitness center provides the perfect opportunity to build a community with other individuals who reside in the complex. This can be especially helpful for those who are new and looking for ways to get to know their neighbors!


The LIFE TIME Athletic Club offers a luxurious environment for residents to exercise and improve their overall health and wellness. Guests can choose from a robust array of fitness classes and opportunities, as well as access to world-class trainers. Residents can take advantage of a variety of classes such as barre, cycle, pilates, or yoga. Whether it's your first time joining a class or you're a seasoned veteran, you'll have no problem finding a class at your level that suits your preferences. Depending on your individual goals, group fitness and private training are also options. After an invigorating workout, you can head over to a recovery space with chiropractic services or grab a nourishing bite to eat at a LifeCafe restaurant.
3. Pools and terraces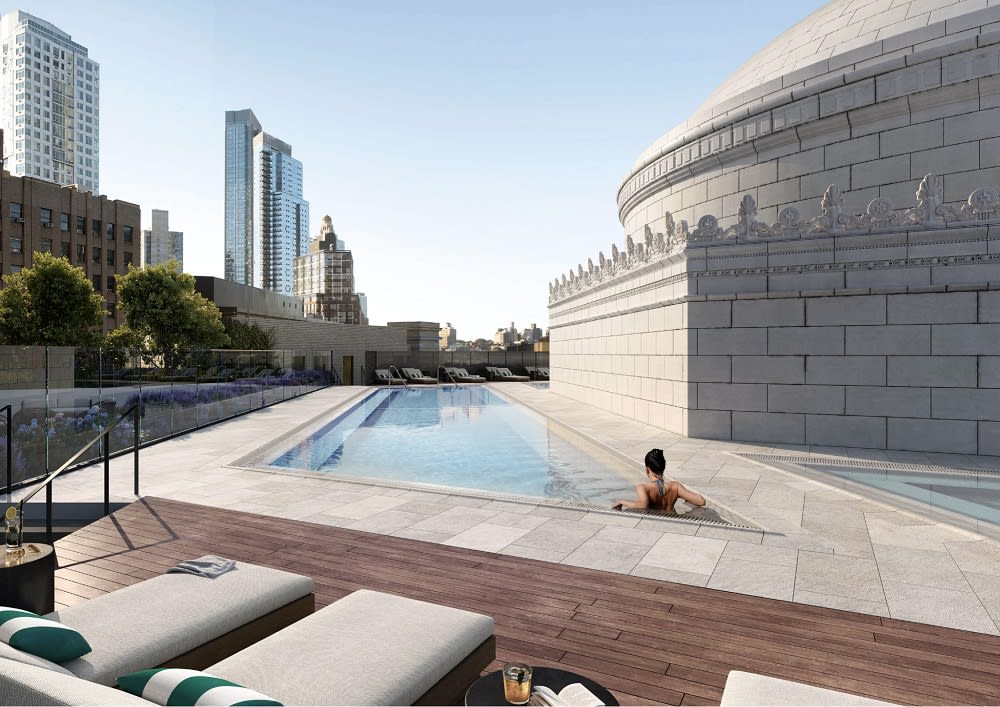 Photo Courtesy of thebrooklyntower.com
Research has shown that
spending time outdoors has immense health benefits
, including both mental and physical. This includes improved sleep, better immunity, lowered stress, and plenty of other positive effects. Today's apartment dwellers want access to the outdoors; those lucky enough to live at The Brooklyn Tower can experience this firsthand.
Wrapped around the Bank's immense Guastavino Dome, the swimming pool at Brooklyn Towers is nothing short of a work of art. This tranquil space provides the perfect space for kicking back and enjoying a hot summer day or entertaining guests. Cool off by taking a dip in the 75-foot lap pool, which encircles the Bank's Guastavino dome and distinguishes itself as one of the city's most dramatic spools. This upscale area also consists of a kid's pool, whirlpool, locker rooms, and outdoor showers. If you're looking to entertain friends and family, be sure to take advantage of the fire pit, barbecue area, or outdoor dining with grills.
4. Leisure and recreation
When it comes to leisure and recreation, The Brooklyn Tower doesn't disappoint. No matter the season, this high-end complex boasts a year-round schedule of activities and events for its residents. Activities are focused on six key themes: art, music, design, wellness, food, and storytelling. Thanks to its diverse array of activities, homeowners and residents can find something that suits their lifestyle. And that's not all! The tower is home to a double-height poolside lounge with shuffleboard and cocktail bar, a chef's kitchen with a private dining room, and a living room lounge with private and group seating.
5. Entertainment and recreation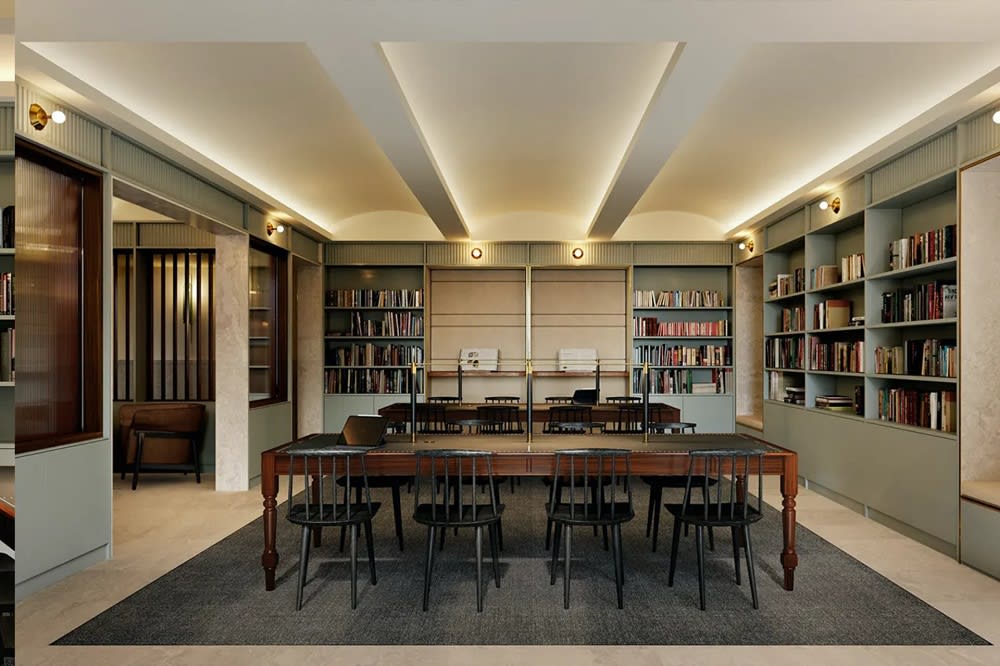 Photo Courtesy of thebrooklyntower.com
From families with young children to retirees looking to settle down, it's essential that apartments cater to their residents' wide array of needs. Families with young children can look forward to a children's playroom with a pantry, which is sure to keep your children entertained for hours.


Whether you're looking for a quiet place to study or the perfect spot to host a meeting, you'll have no problem finding that here at The Brooklyn Tower. This refined building is home to a library lounge with co-working spaces, a conference room, and a private meeting room. The Library Lounge and adjacent conference room serve as a quiet haven to work and convene.
6. Sky decks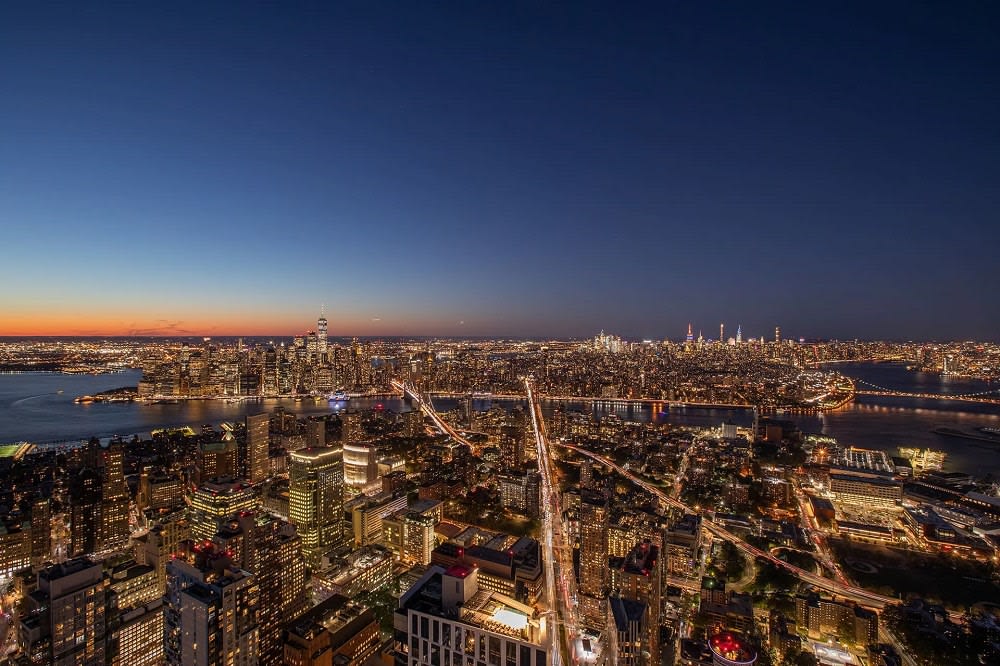 Photo Courtesy of thebrooklyntower.com
Nestled on the 66th floor, The Sky Deck is a one-of-a-kind open-air loggia you don't want to miss. There is a basketball court where you can enjoy a game with spectacular views of the city below. Meanwhile, the 85th restaurant is home to The Sky Lounge. Here, residents can enjoy an evening at lounges and bars or spend time by the outdoor fireplace – all without ever stepping foot outside of their residence. Whether you're stopping by for a cocktail or looking forward to some refined entertaining, an evening at The Sky Lounge is an experience that you don't want to miss.
A closer look into The Brooklyn Tower
There's no question that amenities are a top priority for many homeowners who are on the search for ease and convenience. Located in Downtown Brooklyn at the site of the landmarked Dime Savings Bank of Brooklyn,
The Brooklyn Tower
appeals to residents looking for luxury with stunning views. This architectural masterpiece soars over 1,000 feet high, making it the tallest tower in Brooklyn. In fact, it takes the crown as Brooklyn's first supertall skyscraper.
As impressive as the outside is, the inside is equally as impressive. Spanning over 93 floors, The Brooklyn Tower is home to 550 apartments, with around 150 still for purchase. The latter is situated from the 53rd floor and upwards. Its hexagonal shape gives the building incredible panoramic views of the city below. The building is marvelously constructed of glossy black glass and regal brass, and bronze-toned steel fluting, the epitome of elegance and beauty.
A trusted realtor to help you find Brooklyn real estate
The Brooklyn Tower offers an unmatched lifestyle with a robust array of amenities for its lucky homeowners. If you're interested in finding your home at this high-end establishment, the first order of business is finding a realtor to guide you through the process. Your real estate agent can make or break the selling process, which is why it's essential to find an established, local realtor that you trust.


If you're looking for a Downtown Brooklyn real estate agent,
Josh Carter is there
to guide you through the process. As an expert in Downtown Brooklyn real estate, Josh is ready to help you find Downtown Brooklyn condos.

*Header photo courtesy of thebrooklyntower.com