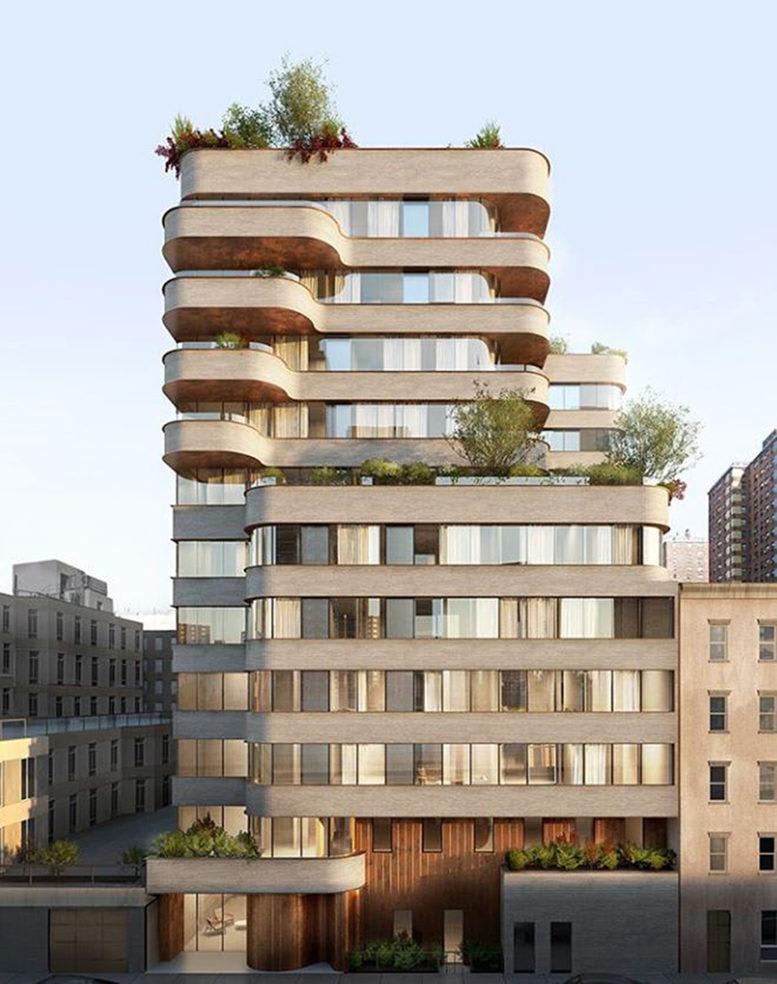 A sophisticated urban retreat: 208 Delancey is a transformative building adding to the intimate collection of luxury residences of New York City.
Designed by ODA New York, a highly accredited architecture firm, 208 Delancey debuts as a distinguished 12-story luxury development located in Manhattan's lower east side. The construction features an elegant organic form outlined by cantilevering balconies and curbed brick corners with matching oval glass. It is a masterpiece with timeless characteristics that perfectly complement the landscape of materiality surrounding it.
Situated on Pitt and Delancey ST, this L-shaped building boasts 85,000 square feet of grand living, offering an amenity-driven lifestyle. There are 85 private residences that range from exclusive penthouses to studios, one, two, and three-bedroom apartments ready for immediate occupancy. Each residence is intelligently composed of expansive windows that emanate natural light, striking skyline views, and functionality.
Inspired Living in New York City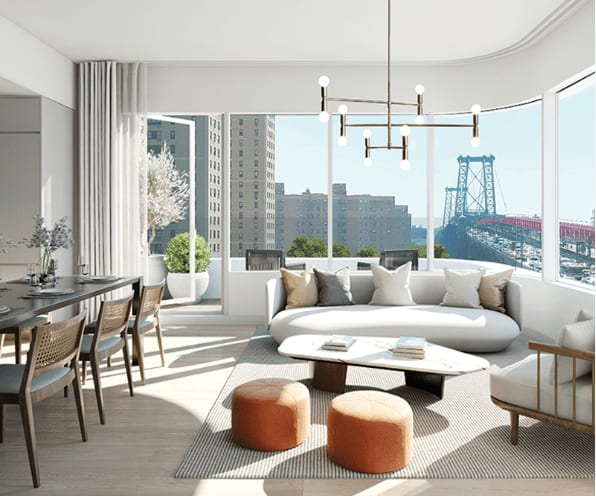 It starts when you usher into the main entrance; the first thing that greets you is a stunning model of 208 Delancey Street illustrating the completed exterior of the project. And then, you take notice of the architectural artistry sculpted into the interior design of each space that connects throughout the building. It feels like you were taken off the map and transported into a serene oasis.

As residents welcome in, an intimate vibe extends through the community spaces to home. Standing in one of the model quarters at 208 Delancey gives you a sense of modern-day New York City with a feeling layered and of high quality. The open layout is meticulously crafted with custom millwork, rich materiality, gorgeous high ceilings, and massive windows.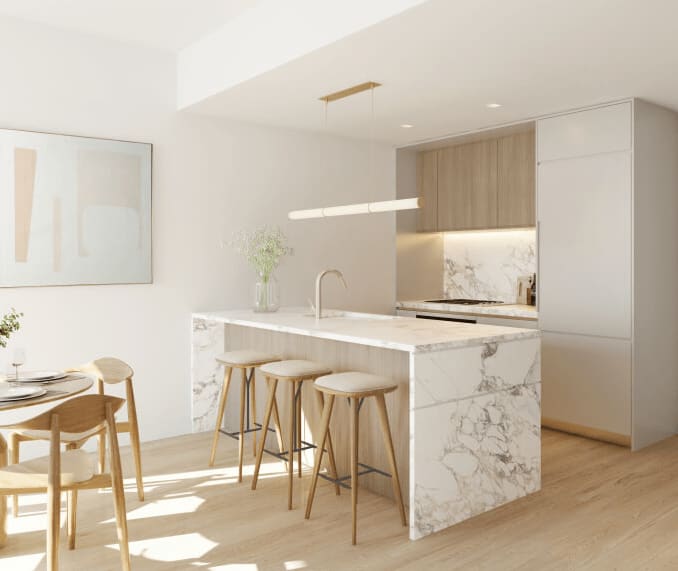 The kitchen adds structural integrity to the space with the richness of material and purity of form.
A graciously proportioned area, open and finished with custom oak cabinetry and Miele appliances. Ideal for informal entertaining or a private family cooking and dining experience.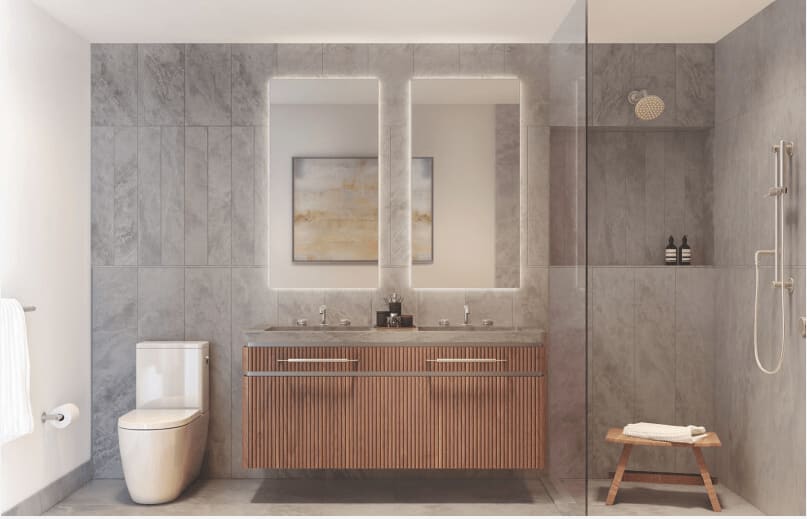 Bathrooms are generously sized and encased in the warm glow of the Blue de Savoie stone walls. A bespoke retreat with custom-built walnut vanities, heated marbled floors, and a waterfall shower. Every detail and finish reflects a level of craftsmanship that is rarely evident in new development.
An Amenity-Driven Lifestyle
The architects push to embody excellence from conception to completion and deliver the finest products and services. Designed to become an extension of your living space, 208 Delancey offers a series of enriching amenities intended to reflect the experiences of a five-star hotel. A devoted enfilade for relaxation, rejuvenation, and luminous activities.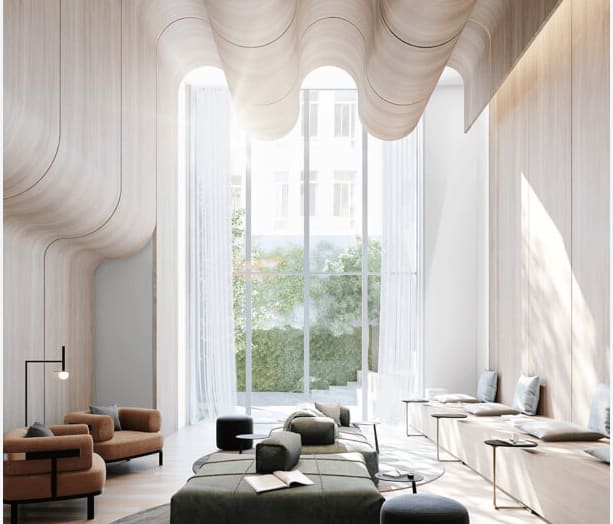 Residents Lounge: A signature space complemented by creative designs and double-height ceilings. Enjoy a quiet, laid-back atmosphere that is perfect for a work-from-home day. The Resident lounge seamlessly connects to the landscaped courtyards.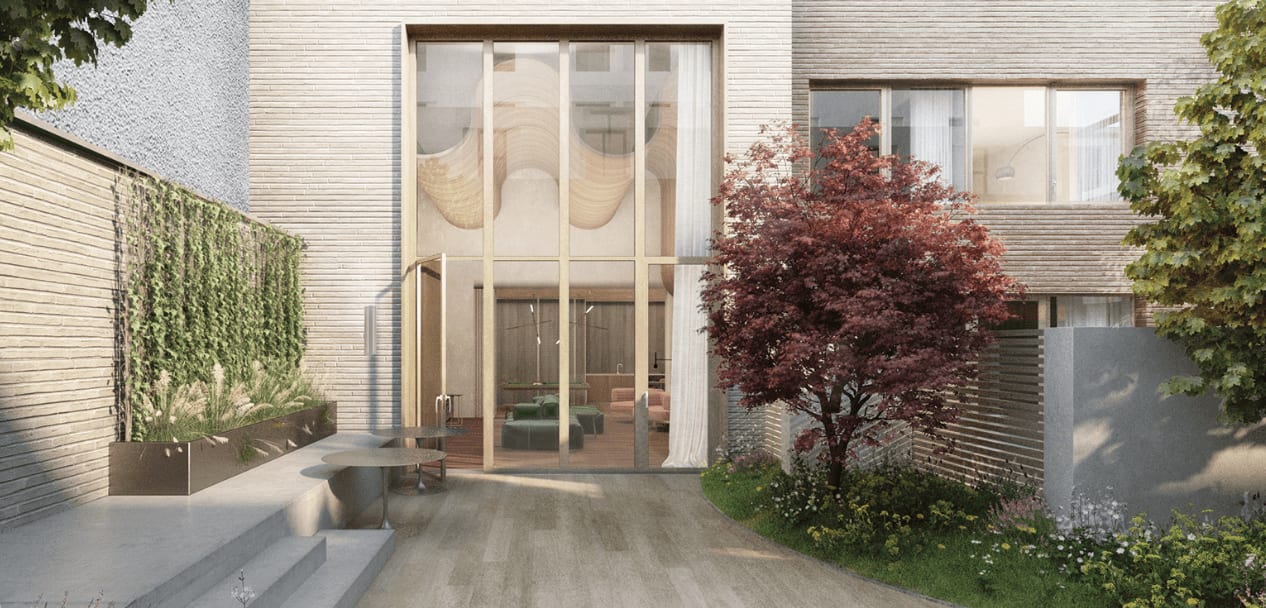 Landscaped Courtyards: A private garden to relax and take the opportunity to connect with nature. Designed to adapt to the changing seasons, these courtyards provide a refreshing retreat for privacy and intimacy.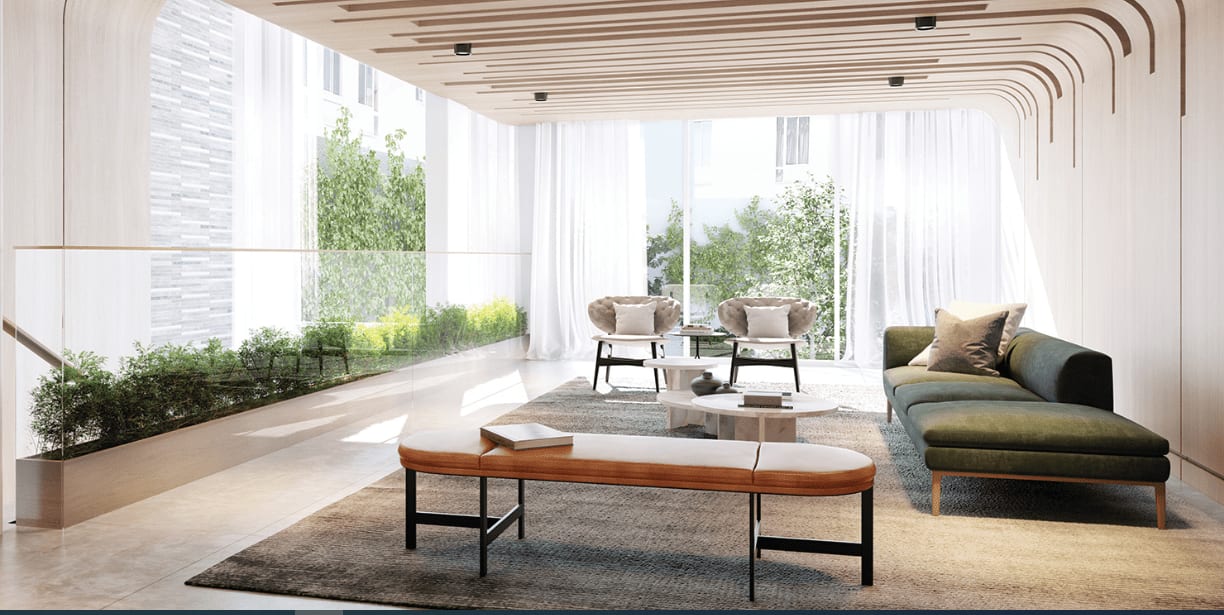 Parlor Lounge: A room with a view: A comfortable seating area with a curved custom oak accent wall that integrates effortlessly to clad the ceilings. With floor-to-ceiling windows, the light-filled space provides a vista overlooking the courtyard.

Fitness Center: Exercise in style with a fully equipped gym with state-of-the-art Technogym machines. This center opens to a dedicated yoga, meditation, and private training area.
Rooftop Terrace: Perched above the neighborhood, this terrace includes a fully equipped kitchen, fireplace, and plentiful seating areas. A rooftop getaway that is great for small get-togethers and events. Host an Al Fresco dining experience for the family with dramatic views of the Manhattan skyline.
One of the Top NYC Neighborhoods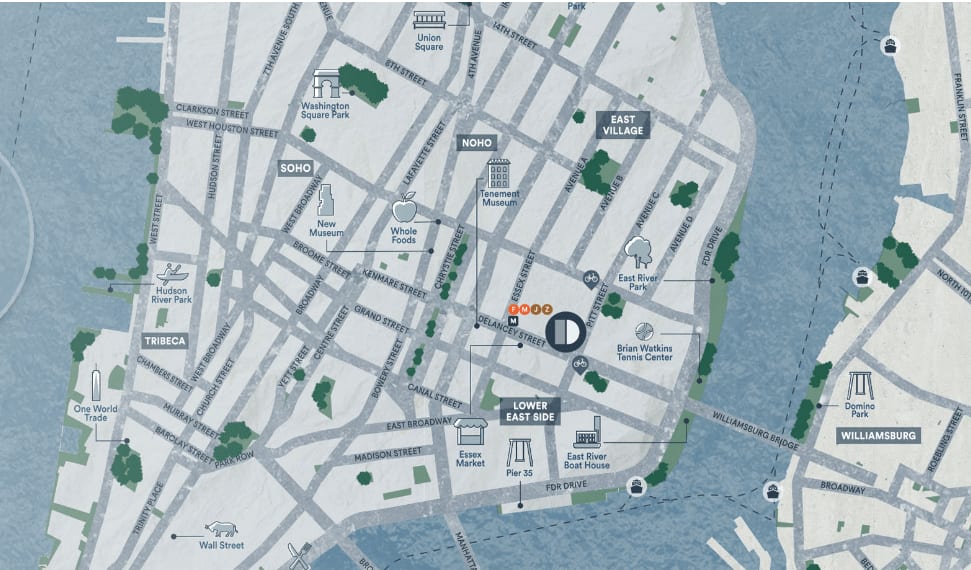 Manhattan: The most exclusive borough in New York City and an area where people gravitate towards. It is home to some of the most popular neighborhoods in NYC, including the iconic west village and the Upper East Side. It is the place to be if affordability is not an issue.
The atmosphere in Manhattan is never stale, and there is a vibrancy and energy here that gets you motivated. There are so many activities here, the Metropolitan Museum of Art, Central Park, endless dining options, and most of the tourist attractions in New York. It is the iconic skyline that you see in the movies across the East River.
208 Delancey Street is located in the heart of the Lower East Side of Manhattan, an up-and-coming area. It is within proximity of Essex Crossing, the East River, Williamsburg Bridge, and the FDR.
The Lower East Side
The lower east side is an immersive neighborhood surrounded by boutiques, culinary experiences, cultural landmarks, museums, galleries, and access to the East River waterfront.
It is one of the oldest neighborhoods in New York City, has a phenomenal food scene, and is associated with the gritty downtown atmosphere. However, developers like New Empire Corporation and ODA New York bring a luxury factor to the residential landscape with the area going through gentrification. Combining new age luxury with the history and hip culture of the lower east side takes the area to a whole new level.
The East River
Living with a view of the East River is the lifestyle that attracts new residents to the lower east side of Manhattan. There is so much development around the seaports, and the city aims to bring the same waterfront beautification that occurred on the west side of the river to the east side.
Life is elevated entirely and can be inspired daily by being close to the waterfront. From waking up for a morning jog on East River Park or coming back home and catching the sunset as it glistens along the water. It makes you feel more present than anything else in the world.
Williamsburg Bridge
The Williamsburg Bridge is a suspension bridge that connects the Lower East Side at Delancey St. with Williamsburg of Brooklyn at Broadway across the East River. It is direct access between the two trendiest boroughs of New York City.
Residents of 208 Delancey Street can enjoy the best of living in downtown Manhattan and convenient access to the trendiest spots of Brooklyn. From the East River esplanade to Pier 6 and Domino Park, a plethora of activities are at your doorsteps.
Luxury New York Apartments for Sale

The reality of buying an apartment in the big apple would be a dream. However, the good news is that prices in this city are at a record ten-year low. That means that you can get a heck of a deal if you plan on moving here and buying in the near future.
Competing in a market as unique and competitive as New York City requires a ton of legwork. Dealing with the stress of the market and navigating a successful transaction can be overwhelming.
Don't overcomplicate: Partner up with an experienced and knowledgeable real estate professional in New York City and leverage their expertise. Let them help you analyze, strategize, and work with you to make owning a home at 208 Delancey Street more than a dream.